Food writer and cooking instructor Christine Rudalevige is a mother of two who recently navigated a family move from agriculturally rich central Pennsylvania to coastal Maine. Eating locally now means more fish on the dinner table. In this biweekly column, she explores family-friendly ways to enjoy sustainable seafood.
Today, Christine likens motherhood to a good fish stock.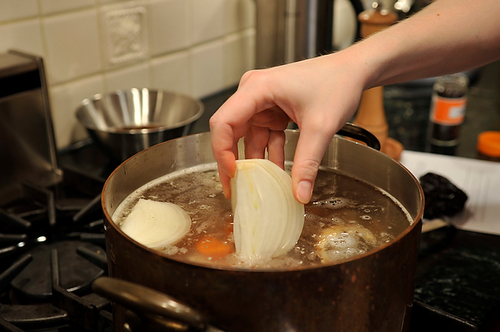 Photo by Sarah Shatz
Like Mother, Like Fish Stock
A good mother is like a great homemade stock.
Let me explain.
Mother is the substance that gives unidentified -- but still very necessary -- flavor to her children's days. There are stashed maternal reserves that get pulled out in requisite volumes on a moment's notice to add just the right amount of something to the evening meal, to perk up kids simmered too long in one heated environment or another. Mothers are, more often than not, the unrecognized ingredient that, from the beginning and in the end, provide depth to their loved ones' lives.
As a mom, I understand the need to play a subtle, supporting role for my children. But if I were a fish head, I might think differently about the level of sacrifice involved. So I guess my analogy ends there.
But I'm pretty sure I've made it consommé clear -- by likening good stock to my kind, sweet, mother, that is -- how dear I hold the ice cube trays and freezer bags full of chicken, beef, lamb, veal, vegetable, and fish stock lying in wait on the shelves of my freezer.
I've worked hard for that stash. I've combed the markets here in Maine for veal bones (still looking!), tasty chicken and their carcasses, and local celery. I've blocked out the time to throw them all in a pot, and then tried to stay awake late enough, so those ingredients get to know each other for long enough to be flavorful undertones in future dishes.
By far, the easiest stock to produce is fish stock. And I'm not just saying that because I live by the sea. You only need 45 minutes, tops; a fish head (gills removed, the French say the eyes must go, too, for a truly clear stock, but I just can't bring myself to do that kind of gouging with a knife. You can pop them out with a spoon during the cooking process.); a couple pounds of bones from mild, lean, white fish like halibut, cod, or flounder; a bit of white wine; and the usual assortment of stock vegetables and herbs.
It's a composite of simple ingredients that I've put to use in countless recipes from chowders and fish pies to seafood pastas (like when I swapped out the chicken stock for fish stock in Thai Curry Noodels with Shrimp) and braising liquids (like the one used in my recipe for Braised Fish with Chili and Garlic).
My basic stock recipe is listed below. It follows pretty closely the fumé recipe my classical French culinary training provided, with the exception of one additional step espoused by acclaimed chef Jasper White. In Chef White's extra step -- situated between sautéing the vegetables and adding water to the pot -- you sweat the fish bones for about 10 minutes to coax all the protein (read that as "flavor") from the bones. And then you steep them in boiling water for another 20-30 minutes and no longer.
From there, you can freeze the fish stock to use the next time your mom stops by for lunch, and you want to subtly show her that, yes, you certainly do know just what she's done for you all these years.
Fish Stock Tips
If you are not using the head and rack bones from a whole fish you've broken down yourself, call ahead to your fish monger to have him hold some back for you. Many times, these items get disposed of if not spoken for, and it's worth the drive! I picked up a cod head and two pounds of fish racks from my fish guy for $1.52, compared to the $4.99 he was charging for a quart of premade fish stock.
If you want a sweeter stock for use in a seafood stew (like Dad's Favorite Seafood Stew), and you know you're not going to have any shellfish allergies at your table, simmer either a spent lobster shell or a handful of shrimp shells in a quart of fish stock for 20 minutes, and then strain it well before you use it.
Never use the skin -- or anything with scales attached for that matter -- or you'll get a gray stock.
If you are shooting for a stronger fishy taste -- say, for use in a fish chowder -- use the heads of an oilier fish like salmon or bluefish.
Always rinse the fish head and bones under cold water until the water runs clear before you put them in the stock pot. This step contributes immensely toward the clarity of a stock.
If you can't stand the thought of buying or using a fish head, you can skip it. But you'll be doing so at the cost of the stock's silky mouthfeel.
Basic Fish Stock
Makes 6 cups of stock
2 tablespoons unsalted butter
2 onions, peeled and chopped
4 stalks celery, chopped
2 medium carrots, sliced
2 dried bay leaves
12 parsley stems
6 sprigs fresh thyme - (or a teaspoon of dried)
2 tablespoons black peppercorns
1 large fish head from cod or haddock -- (6 inches long or more) split lengthwise, gills removed, and rinsed clean of any blood)
2 1/2 pounds white fish frames, cut into 2-inch pieces and rinsed clean of any blood
1/4 cup dry white wine
About 2 quarts very hot or boiling water
Kosher or sea salt
See the full recipe (and save and print it) here.
Like this post? See Christine's previous topic: An (Almost) Scientific Exploration of Oil-Poached Fish.
Christine Rudalevige is a food writer, culinary instructor at Stonewall Kitchen, and mother of two who always fits in three squares day -- which occasionally means making up for a skipped breakfast with an ample late-night refrigerator raid.