A healthy eating specialist at WFM Columbus Circle and WFM Union Square in NYC, Kelly Dupuis believes in eating foods without labels (an ear of corn, a ripe tomato). As a proponent of plant-based diets, she eschews packaged substitutes offering a quick fix. For Kelly, it's all about cooking from scratch. In her weekly column, Comfort Food - Refreshed, Kelly doesn't just adapt her favorite comfort foods to her plant-strong lifestyle, she reimagines them in original recipes with a wink to the past.
This week: Kelly takes a hands-on approach to an Asian-inspired kale salad.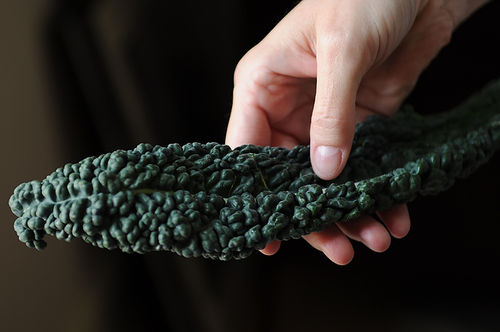 Photo by Sarah Shatz
- Kelly
My first encounter with kale was a pure kale experience. I found kale on my first macroplate, accompanied by a wedge of sweet kombucha squash, sautéed seaweed, fluffy short-grain rice, hearty broccoli florets, and super-tender carrots. And the kale was steamed -- just straight up steamed green kale. It was not bitter as I'd heard kale would be. It was almost sweet, and had a floral scent, a good chew to it, and was super filling. I know being "filling" is not the most glamorous characteristic for food, but when you're trying to figure out how to incorporate more plants and less fat into your diet, filling foods like dark leafy greens, whole grains, and beans are vital to a successful journey.
That macroplate was only the beginning. Since then, kale has become one of those foods that I try to get into my diet whenever I can. And I'm not the only one; kale is everywhere! It's a vegetable that didn't have too much glamour just a couple years back. But suddenly, kale is flying off the shelves and into home cooks' and restaurants' kitchens. Working at Whole Foods Market, I witness customers' collective craving for kale on a daily basis. So I've needed to cook up a variety of kale dishes and answer the public's plea for dishes of the dark-and-leafy variety. I've gone about this in various ways.
There's the Just-Add-Kale method (or chard, or collard greens, really). The way to do this is to take a traditional dish that's normally made without kale and load it up with the greens. I've "just added kale" to smashed potatoes. I've just added kale to veggie chili. I've just added kale to blueberry banana smoothies (you'd be surprised how capable bananas are of hiding the slight bitterness of the kale). You can just add kale to a variety of dishes and make some seriously delicious things happen. It's also a great way of introducing kids to kale -- just sneak it into some of their favorite dishes.
There's also the Kale Substitution method. Use kale instead of basil in pesto. Use kale instead of spinach in creamed spinach (try coconut milk with that one, too). Try kale instead of broccoli in a baked pasta casserole. Kale's versatility allows it to gladly go along for myriad culinary rides.
One way I've prepared kale that folks were initially hesitant to try was in a salad. I suppose that's not a big surprise. Raw kale can be bitter and super chewy, making it hard to get through a bowlful. But raw greens have major nutritional power. And when you make a kale salad, you can leave it hanging out in whatever dressing you've chosen for a lot longer than you can leave spinach or romaine or other more delicate leafy greens in dressing. Kale comes from sturdy stock, so it doesn't wilt easily. And raw kale can be extremely delicious -- as is the case in this Asian Kale Salad with Avocado and Tahini Dressing.
When I first started thinking about this week's recipe, I was pretty much convinced that it was going to be a greens and beans sauté with an Asian flair. You know, steamed kale with shelled edamame, tossed around in a pan like a stir-fry. I've made kale dishes like that before and they're winners. But I suddenly realized that I could incorporate these flavors into a kale salad! Here's my big tip: Your first goal in constructing this salad is to very thinly slice the kale. Rip out the big rib that runs down the middle of the leaves, roll up the leaves a few at a time, and thinly slice (chiffonade) the leaves, starting at one edge of the leaf roll and moving toward the other. This makes the kale more capable of taking on the right proportion of flavors, which eases the bitterness.
Add mashed avocado, tahini, lemon juice, and low-sodium tamari to the kale, and -- here comes the fun part -- massage them into the kale. Get in there with your hands! Make sure you're massaging all that yummy avocado and tahini and soy and lemon into the kale leaves so everything is well coated. Let that mixture sit for a bit in the fridge, and then add the edamame, carrots, scallions, bell peppers, ginger, and sesame seeds. Toss well and there you have it: a tender, flavorful and fresh salad that won't go limp or leave you hungry. Enjoy!
Asian Kale Salad with Avocado and Tahini Dressing
Serves 6
1 bunch kale (lacinato, green or red), ribs removed and very thinly sliced
1 ripe avocado, pitted, peeled and mashed
2 tablespoons tahini paste
Juice of one lemon
2 tablespoons low sodium tamari
1 1/2 cup shredded carrots
1 1/2 cup shelled edamame (thawed if frozen)
1 red bell pepper, seeded and thinly sliced
4 green onions, thinly chopped
2 tablespoons sesame seeds
1 tablespoon minced fresh ginger
Sea salt and freshly ground black pepper to taste
See the full recipe (and save and print it) here.
In the NYC area? Stop by for cooking advice!
Do you need help with maintaining a healthy diet? Drop by WFM Columbus Circle or WFM Union Square to chat with me about this recipe and plant-strong cooking tips.
If you're not in the area, send me a direct message or add your comments or questions below.
Like this post? See Kelly's topic from last week: Mediterranean Pizza.
Kelly Dupuis is a healthy eating specialist at WFM Columbus Circle and WFM Union Square who delights in transforming comfort classics into deliciously satisfying and fun plant-based dishes.